Tennis Lessons for Kids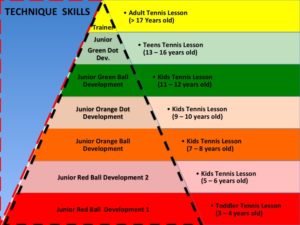 Kids Tennis Lessons are developed to create interest and fun in kids learner. Hence, children develop liking for the sport of tennis without having any pressure from the coaches or the parents.
It is important for kid to learn tennis without been pressured, once their interest is there, there is not way for anyone or even their parent to remove it.
Most elite players such as Nadal, Rafael, Djokovic, Novak, Li, Na, Sharapova, Maria and others started learning tennis because they have an interest in the game.
Therefore, at Epic Tennis Academy we prided ourselves as the only academy that uses a all round tennis development from Toddler to Star Performers.
All of our coaches are specialist in their own areas and they have many year of experience with great review from parents and students.
The toddler programs are being taught by trained physical educator who knows the important of child development and who are able to generate tennis interest in kids.
Introductory/Intermediate tennis is being taught by certified tennis coach with years of experience in coaching.
According to child physiologist, it is important for young children to obtain the basic psycho motor skills such as balancing, flexibility and coordination. The best way to do this is to introduce them to the sports of tennis.
In another aspect, child psychologist suggests that activities that encourage children to plan and think ahead will help improve their neurotransmission; scientific term known as synaptic transmission. In lay person term, this helps to train up Kids' Brain Power .
Learning Tennis also helps children gain their concentration or improved their focus, this will in turn helps the child in other aspect of their daily life. Before a child hits a tennis ball, the child has to judge the bounce and the distance of the ball and the racket, these require judgement and focus on the tennis ball. Hence, with tennis training a child attention to their daily task will increased/improved.
 

For Kids lessons, it is important to create a fun environment so that the children could learn in an non-threatening environment. The key word is "Fun", it will always help the children learn faster and at ease. With the correct technique in a fun environment, kids learn faster and their love for tennis will also grow steadily. That is why some of our coaches are former Physical Education teacher, with their years of experiences they are able to inject the element of Fun and proper technique training for your child.
Epic Tennis Academy Pte Ltd Offers the following Rate for Group lesson for Kids, $35-$45.