Holiday Tennis Programme
School Holiday? Any plans for the kids? Will they be bored?
Besides going on a short holiday, children usually stays at home while the parents are away working – They will play computer games, hand phone games, Ipad games, X box… Are these Good?
Are computer, i-pad, i-phone Games good for our kids? Will your children gain any knowledge that will help them in Developing Mental or Physical Skils?
Can this Holiday be a fruitful one for your kids?
Tennis helps to Empower your child's Body.
Tennis helps to Boost your child's Brain.
Tennis helps to Develop your child's Personal and Social Skills.
Tennis helps to Strengthen your child's physical & mental health.
Tennis helps to fulfil the component of  National Youth Achievement Award (NYAA).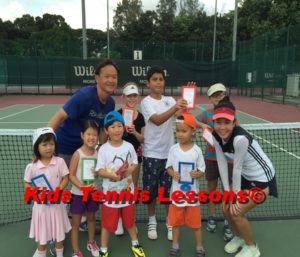 Holiday Tennis Camp
3-Day Beginner Tennis Camp @$150
Age:  5 to 12 yrs
Fees: $150 for 3 Days (4.5 Hrs)  (inclusive of certificate)
Minimum 3 to start the class
19-21 June @ Kallang Tennis Centre (8am to 9.30am)
21-23 June @ MOE (Evans Road) Tennis Centre (5.30pm to 7pm)
23-25 June @ Yio Chu Kang Tennis Centre (5pm to 6.30pm)
Private Tennis Programme at Condominium or Public Tennis Courts in Singapore
No. of Session: 10 session
Each Student $35
Form your own group : Min 3 students
Topics: Ready – Prepare to Hit – Follow Through – Sign-up NOW
Tennis Equipment – balls, proper tennis outfits/attires, selection of rackets
Ball sense – throwing & catching and Strengthening of arms & legs
Proper Tennis Grips – Semi-western forehand / Eastern forehand, backhand.
Coordination – Eye – Arms – Legs
Basic Footwork-Sideways, forward, backward movement
Basic return of Serve
Basic Volley – Forehand / Backhand
Scoring System / Umpiring
Our Kids have a Great sessions with Coach Eddie, he has excellent court management. All the kids were actively involve throughout the entire session. – Felicia, Mother of 2 June' 12 Holiday Tennis Programme 
Excellent Location, I was able to do some grocery while the kids were having tennis lessons. – Patricia, December' 12 Holiday Tennis Programme 
My Boys play tennis and I managed to exercise; Great Workout for me! – Mike, June' 11 Holiday Tennis Programme 
Managed to complete my NYAA Award and also learned to play and appreciate tennis! – Lyn, JC Student June' 11 Holiday NYAA Tennis Programme